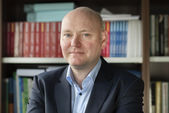 Dr. rer. pol. Achim Truger is professor for `Sozioökonomie´, specialising in government activity and public finances at the University of Duisburg-Essen, Member of the German Council of Economic Experts (Sachverständigenrat zur Begutachtung der gesamtwirtschaftlichen Entwicklung) and Senior Research Fellow at the Macroeconomic Policy Institute of the Hans Boeckler Foundation in Düsseldorf. Previously, he was professor of economics, in particular macroeconomics and economic policy, at the Berlin School of Economics and Law from 2012 to 2019. Prior to this, he was a junior researcher and lecturer at the Cologne Centre for Public Finance and the Institute for Public Economics at the University of Cologne.
Research Interests
Macroeconomic policies: country case studies
Fiscal policy, 'debt brakes' and macroeconomic performance
German and European tax and fiscal policies
Tax policy, redistrubution and macroeconomic performance
Selected Recent Publications
2014 Demystifying a 'shining example': German Public Finances Under the Debt Brake, Gobal Labour University, Working Paper No. 21, International Labour Organisation, Geneva (with K. Eicker-Wolf).
2014 Fiscal policy and rebalancing in the Euro area: A critique of the German debt brake from a Post-Keynesian perspective, Panoeconomicus 61 (1): 21-38.
2013 Finance-dominated capitalism in crisis – the case for a global Keynesian New Deal, Journal of Post Keynesian Economics, 35 (2): 183-210 (with E. Hein).
2013 Austerity in the euro area: the sad state of economic policy in Germany and the EU, in: European Journal of Economics and Economic Policies, Intervention 2/2013, pp. 158-174.
2013 The German 'debt brake': A shining example for European fiscal policy?, Revue de l'OFCE / Debates and Policies, The Euro Area In Crisis, 127, S. 155-188 (with H. Will).