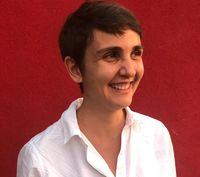 Hanna Völkle researches the feminist-ecological economics of time and is a PhD student at the University of Vechta. She works as a social scientist and research associate for the Harriet Taylor Mill-Institute for Economics and Gender Studies at the Berlin School of Economics and Law. Before she worked for the non-governmental organisation EAF Berlin, which promotes equal opportunities in business, science, and politics. Since 2019 she has been a lecturer on Feminist Ecological Economics at the Berlin School of Economics and Law (BSEL). She has a Bachelor's degree in Sociology, Political and Communication Sciences. She completed a traineeship in science communication at the Institute for Ecological Economy Research (IÖW). In 2018 she completed the Master's program "Political Economy of European Integration" at the BSEL. She is a member of "efas - das Ökonominnennetzwerk".
Research Interests
Feminist economics
Social-ecological transformation
Selected Recent Publications
Dengler, Corinna/Völkle, Hanna (2022): Feminist theory in international political economy. In: Deese, David (ed.): A Research Agenda for International Political Economy. Most Promising Pathways and Directions. Cheltenham: Edward Elgar, pp. 201-214.