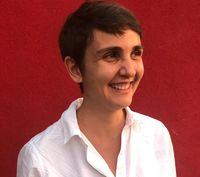 Hanna Völkle researches the feminist-ecological economics of time and is a prospective Phd student at the University of Vechta. She works as a social scientist for the non-governmental organisation EAF Berlin, which promotes equal opportunities in business, science, and politics. Since 2019 she has been a lecturer on Feminist Ecological Economics at the Berlin School of Economics and Law (BSEL). She has a Bachelor's degree in Sociology, Political and Communication Sciences. She completed a traineeship in science communication at the Institute for Ecological Economy Research (IÖW). In 2018 she completed the Master's program "Political Economy of European Integration" at the BSEL. She is a member of "efas - das Ökonominnennetzwerk".
Research Interests
Feminist economics
Social-ecological transformation
Selected Recent Publications
Völkle, Hanna (2020): Rezension zu: Ulrike Knobloch (Hrgs.): Ökonomie des Versorgens. Feministisch-kritische Wirtschaftstheorien im deutschsprachigen Raum. Feministische Studien, 38(1), 174-177.
Völkle, Hanna (2020): Feministisch-ökologische Ökonomie der Zeit. In Hahmann, Julia; Knobloch, Ulrike; Kubandt, Melanie; Orlikowski, Anna; Plath, Christina (Hrgs.), Geschlechterforschung in und zwischen den Disziplinen: Gender in Soziologie, Ökonomie und Bildung. Opladen: Barbara Budrich, 126-129.