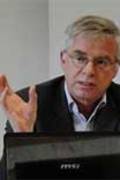 From 1993 until 2014, Dr. Jan Priewe was professor of economics at Hochschule für Technik und Wirtschaft Berlin – University of Applied Sciences. After retirement in 2014 he continued to teach at HTW Berlin as a free-lance lecturer and is a member of the Research Cluster "Money, Trade, Finance and Development". In 2014 he was appointed Senior Research Fellow at Macroeconomic Policy Institute (IMK within the Hans-Böckler-Foundation in Düsseldorf. In the year 2000 he co-founded "Macroeconomic Policy Studies", funded by the Federal Ministry of Economic Cooperation and Development and the People's Bank of China. In 2003 he founded the master's "International and Development Economics" at HTW Berlin. He is a member of the steering committee of the Research Network Macroeconomic Theory and Macroeconomic Policy (FMM) at IMK since 1996. From 2009 until 2013 he was Co-Director of project with eleven universities in developing countries on "Money, Finance, Trade and Development", funded by DAAD, the German Academic Exchange Service. He is also a member of the Kuratorium of the Hans-Böckler-Foundation.
Research Interests
Macroeconomics
Economic policy
Development economics
Globalisation of financial markets
Exchange rate economics
Selected Recent Publications
Together with Calcagno, A., Dullien, S., Márquez-Velázquez, A., Maystre, N. (Hrg.): Rethinking Development Strategies After the Financial Crisis.
Volume I: Making the Case for Policy Space.
Volume II: Country Case Studies and International Comparisons (forthcoming).
UNCTAD. United Nations, New York and Geneva, 2015.
Link

Together with Dullien, S. Kotte, und D.J., Marquez, A. (eds.):
The Financial and Economic Crisis of 2008-2009 and Developing Countries.
UNCTAD. United Nations, New York and Geneva 2010.
Link

Stagnation, Nullwachstum, immerwährendes Wachstum – wohin driftet der entwickelte Kapitalismus? In: Hagemann, H., Kromphardt, J. (Hrsg.): Keynes, Schumpeter und die Zukunft der entwickelten kapitalistischen Volkswirtschaften. Marburg/Lahn – Metropolis 2016) im Erscheinen)

Together with Philipp Stachelsky: Griechische Depression – Wenn die Chefärzte versagen. WISOdirekt, Friedrich-Ebert-Stiftung, März 2015. Link

Eight Strategies for Development in Comparison. Institute for Political Economy, Hochschule für Wirtschaft und Recht. Working Paper 53/2015. 42 S.

Rätsel Wechselkurs – Krise und Neuanfang der der Wechselkurstheorie. In: Hagemann, H., Kromphardt, J. (Hrsg.): Für eine bessere gesamteuropäische Wirtschaftspolitik. Marburg/Lahn – Metropolis 2015, S. 205-247.

TTIP oder transatlantische Währungskooperation? Friedrich-Ebert-Stiftung, WISOdirekt., November 2014. Link
Globale und europäische Ungleichgewichte in den Leistungsbilanzen. In: Kromphardt, J. (Hrsg.): Die aktuelle Wirtschafts- und Finanzkrise und ihre Überwindung. Marburg/Lahn – Metropolis 2013, S. 57-89.