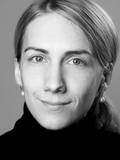 Petra Dünhaupt, Dr. rer. pol., is a researcher and lecturer in International Economics at the Berlin School of Economics and Law (HWR) Berlin. Currently she participates in the international and interdisciplinary research project Global Value Chains - Economic and Social Upgrading.
Petra holds a PhD in Economics from the University of Oldenburg and a M.A. in International and Development Economics from the HTW Berlin.
Research Focus
Development economics
Global value chains
Income distribution and financialization
Selected Publications
"Financialisation and Distribution from a Kaleckian Perspective: the US, the UK and Sweden Compared – Before and After the Crisis", International Journal of Political Economy, 46 (4): 233–266, 2017 (with E. Hein, M. Kulesza and A. Alfageme).
"Estimated Tariff Savings from the Trade Agreement between the EU and Vietnam − EVFTA", Core Labour Standards Plus - Linking Trade and Decent Work in Global Supply Chains, FES ASIA, 2017.
"Determinants of Labour's Income Share in the Era of Financialisation" Cambridge Journal of Economics, 41(1): 283-306, 2017.
"Financialization and the Crises of Capitalism", Jo, T.-H., Chester, L. and D'Ippotilti (eds.), Handbook of Heterodox Economics, 386-401 ,Routledge, 2017.