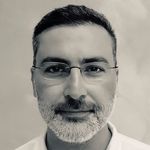 Ümit Akcay, Assoc.Prof. of Economics, has been a visiting scholar and lecturer at Berlin School of Economics and Law since 2017. He previously held positions at Istanbul Bilgi University, Atılım University and METU in Turkey between 2016 and 2017, at the Department of Politics and at MEIS in New York University in the US between 2012 and 2015, and at the Department of Economics of Ordu University in Turkey, between 2009 and 2012. He has a Ph.D. in development economics from Marmara University, Turkey.
Research Interests
International political economy.
Political economy of growth regimes.
Financialization in emerging capitalist countries.
Political economy of new authoritarian regimes
Turkey's political economy.
Selected Publications
Further Information
His other academic works are available at https://hwr-berlin.academia.edu/UmitAkcay
Email: Uemit.Akcay(at)hwr-berlin.de
Twitter: https://twitter.com/umitak
Dr. Ümit Akcay

Campus Schöneberg, Building E, Room E 1.30
Babelsberger Straße 14-16, 10715 Berlin