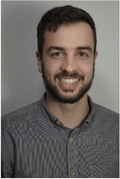 Lecturer at the Berlin School of Economics and Law where he studied International Economics (M.A.). Before, he studied Economics (B.A.) at the University of Barcelona. During his studies he worked as a student research assistant, a teaching assistant and completed an internship at the Macroeconomic Policy Institute, IMK. He currently teaches Macroeconomics, International Economics and Mathematics. He also collaborates with the Young Scholar Initiative as organiser of the Keynesian Working Group and with the Spanish-language political economy journal SinPermiso (www.sinpermiso.info). Before moving to Berlin, he worked for the Spanish political party Podemos.
Research Interest
Macroeconomic Theory: growth, distribution and financialization
Political Economy of Capitalism
European Monetary Union policies
Selected Publications
Hein, E., Dünhaupt, P., Alfageme, A., and Kulesza, M. (2018): A Kaleckian Perspective on Financialisation and Distribution in Three Main Eurozone Countries before and after the Crisis: France, Germany and Spain, Review of Political Economy, 30 (1), 41-71.
Hein, E., Dünhaupt, P., Kulesza, M. and Alfageme, A. (2017): Financialization and Distribution from a Kaleckian Perspective: The United States, the United Kingdom, and Sweden Compared—Before and after the Crisis, International Journal of Political Economy, 46 (4), 233-266.